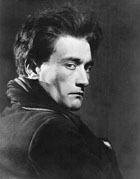 Antonin Artaud was a revolutionary figure in 20th century theatre. While his writings were inspiring the avant garde of Europe, Artaud was residing in an asylum for the insane. Symptoms of Schizophrenia and an addiction to opium would define much of his later life. Despite his illness he was able to author several books including his seminal work
A Theatre and its Double
where he discusses the need to destroy present forms of theatre and revert to a more ritualistic style steeped in animalistic desires and symbolism. It would be known as the Theatre of Cruelty. This play examines his last days, institutionalized and suffering from the delusions that have plagued much of his life.
PERFORMANCE DATES: November 3, 4, 10, 11, 17 and 18 at 7:30pm; 19 at 2pm
TICKETS: $14 (General Admission) and $8 (Student/55+ Admission)
Click

to purchase tickets.
Click

to purchase 2016/17 SEASON TICKETS and save!
Bread & Water Theatre has a policy never to deny admission to a patron because of their inability to pay. Contact Bread & Water Theatre at 585.538.9684 for details.